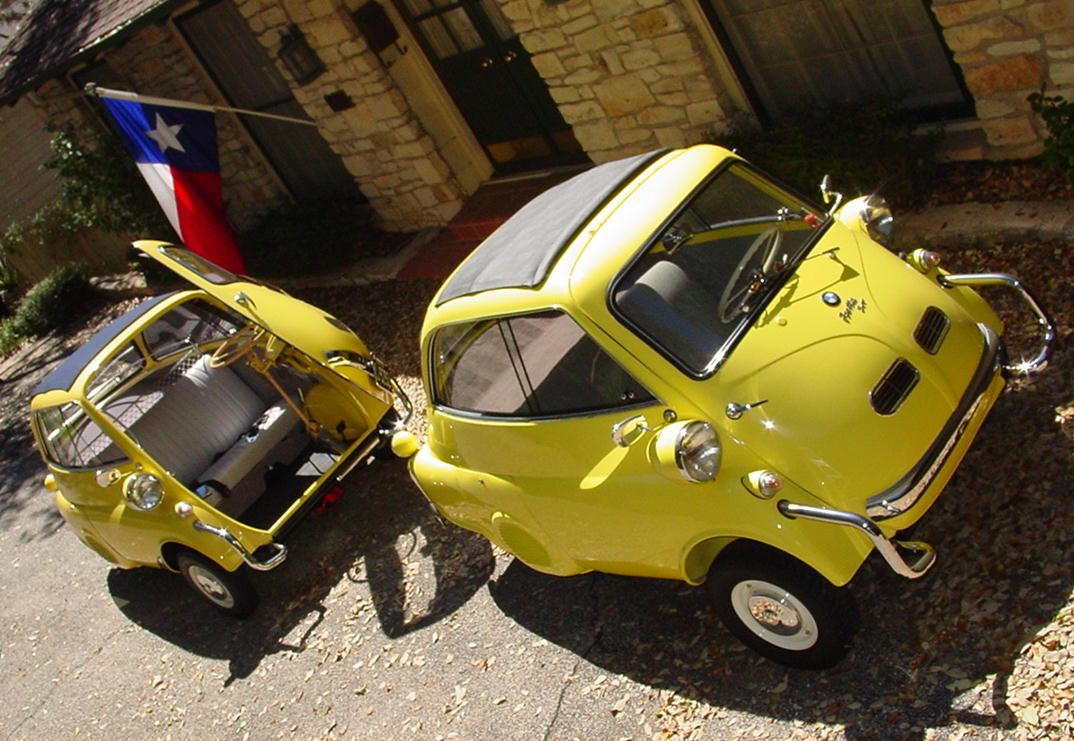 Seeing double? Here we have two members of the Central Texas Micronuts' armada of Isettas, Bruce Fullerton's car in the foreground and John Wallace's with the door open, ready for a quick getaway. John was running errands on a beautiful Spring day and decided to drop by for a visit. Of course, a few shots from LadderCam were in order. John's departure was captured in yet another amateur video by the Isetta Tech video staff right here.




Our latest entry comes from up Ohio way. Isetta Tech associate, Tom Bosano, sends us this shot of his solid barn-find Isetta. Unfortunately, the owner died. Tom bought it from his wife who knew very little about it so he's in sort-through-boxes-of-parts mode getting everything back where it belongs. Check back for updates on Tom's progress as we follow one more Isetta headed back out on the asphalt where it belongs.




Our compadre from Montevideo, Uruguay, Leonardo Correa Luna, sent along this shot of his car at the beach in Punta del Este and one in the driveway prior to blasting off on a 100 mile run. Leo explains that one more reason he loves his Isetta is that with the surfboard installed, there's no room for his girlfriend which, in turn, allows him to surf as long as he wants to. Whatever you say, Leo.




Starting off 2005 we have a couple of shots from long-time Isetta guy Hector Orlandi who has relocated to San Antonio. If you follow Jesse James and his Monster Garage escapades, you might remember Hector's red and white Isetta from the Mini/snowmobile episode from 2004. Check out his Web site right here.




Looks like Central Texas Micronut John Wallace successfully made the trip from out west of Austin, down the big hill and on over to Cecil's Auto Trim for a new sunroof. We're talkin' a 45-50 mph asphalt scorching run. The Isetta Tech video crew shot this shamefully amateur clip for your viewing pleasure. Here's part two of the action out on Ranch Road 2222 just west of Austin, Texas. What the heck, here's one more.

Achtung! These are 2, 4 and 7MB mpeg files. If you're on a dial-up connection, downloads could represent a career change.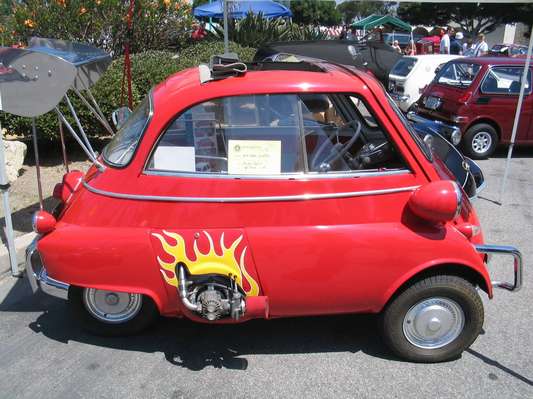 Greg the Isettadude sent Isetta Tech this great shot of his car at the 2004 Microcar and Minicar Nationals held in Long Beach this past summer. Make careful note of the slick supercharger he installed. And check out that rear wing! Once you've restored a dozen Isettas, it's time for something a little different. Nice job and thanx again for getting in touch, Greg!




From our Wichita, Kansas office comes Jim Rader's super clean white unit. Jim's a street rodder at heart but his Isetta gets plenty of his and his wife's time and attention. Jim shot the beautiful white pearl paint. And finally, someone ponied up and tinted those windows. This is a truly beautiful car! Thanx for the pix Jim.




This entry into the Isetta Tech gallery comes from Bill Hornick over West Virginia way. The amazing thing about this car is that Bill has owned it for 29 years! Bill's car is one of the better resto candidtates we've seen in a while. We'll stay in touch and see if we can't get him to send us some progress shots and paste 'em up here for you to see.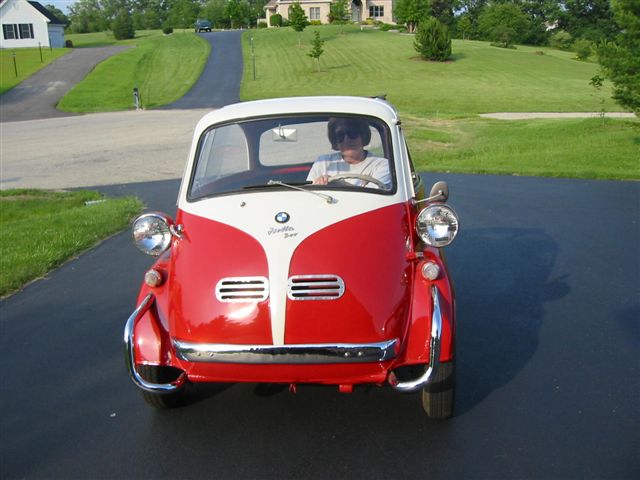 Another long-distance Isetta friend of ours, Lisa DePlume, sent this shot of her sharp red and white unit. Lisa terrorizes the geography north of the Chicago area.




Coming in for a landing are a sharp white Isetta and Corvette Stingray owned by Leonardo Correa Luna in Montevideo, Uruguay. Leo is a pilot for Uair Airlines and has quite a corral of cars on the side including multiple Isettas. Leo is also translating the Central Texas Micronuts newsletter, "A Little Car News", into Spanish for distribution to his South American microcar amigos. Thanks for the pix and the effort, Leo!




Here's a beautiful blue and white Sliding Window Coupe that is almost completely restored. And by restored, we mean restored. The proud owner is Rich Plavetich out of Laguna Beach, California. Click here for four more shots of this beauty. Thanx again for sending these to us Rich and good luck in your search for set of pristene side glass too! If we can get our hands on any, we'll let you know.




Jerry Zabin was kind enough to send us this shot of him in his British 250 up in Skokie, Illinois. This car runs like a top, just like his Isetta convertible that we should be getting a pic of in the very near future.




Want to have some fun on the Interstate? Just hook up a trailer and park your Isetta on it. The rest will take care of itself. That's what John Wallace did. This shot was taken out of the rear window of the F-350 just south of downtown Dallas on I-35. The car is now safely in his garage in Austin.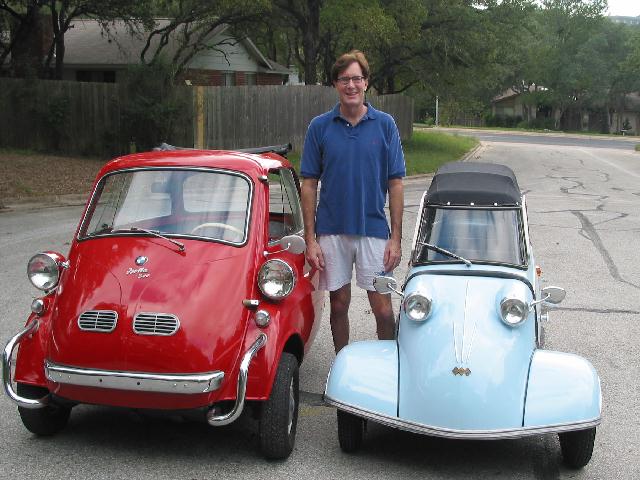 Here's fellow Austinite and Isetta owner Carl Jensen with two of his cars. Both the Isetta and Messerschmidt are driven on a regular basis around the Austin area. Carl was a major help during the restoration of our car. And yes, he fits into both cars just fine.




Here's Wayne Graefen from over in Kerrville, Texas sitting in his Isetta for the first time. Wayne is an authority on vintage Chrysler 300's, has written a restoration manual on the 300C and, among other things, owns one of eight 300F's ever built. It's a natural that he had to snap up "the other 300". Once you're hooked on hemi power, always hooked.




Linda Noland's Googly Eye-setta from Dallas. A real looker!




Don't tell Levi Regier that the Isetta is a commuter car. That is unless your idea of a commute is from Henderson, Nebraska to Dallas and back. Levi drove his car to the 11th National Microcar & Minicar Meet in Duncanville, Texas this past September. With the exception of having to bolt the carb back on the engine once, the Isetta performed beautifully. That's a 1,500 mile round trip in four days, 50+ mpg.




Elvis bought an Isetta for Colonel Tom Parker once upon a time. Here's an excerpt from The Last Train To Memphis about it. On November 30, 2002, Elvis returned to Austin, Texas in an attempt to reclaim The Colonel's ride at the 13th Annual Chuy's Children Giving To Children parade. This Isetta's owners, Andy and Janie Amescua of McDade, allowed the photo-op but sent The King packin' in a Cadillac.




Robert "Bubba" Mace and his Cyber Green 1958 Isetta at the 2002 National Meet in Duncanville.




Here's our car in driveway getting a few last minute parts installed prior to a trip to Duncanville, Texas to the 2002 National Microcar & Minicar Meet.




This Isetta belongs to Archie Crow of Fort Worth, Texas and is one of the finest examples of a true factory-quality restoration.




Whad'ya do to make Kermit the Isetta fit? Firemarshal Bill says "Pour more concrete!".

Speaking of Firemarshal Bill, his car was featured on the Unique Cars segment of Canadian-produced Driving Television in June of 2004. A year or so ago, they did a pilot for the show. Here's the the first shoot. To see the one that aired, click here. It's a very well done mini-lesson worth checking out.




As long as we're talking about FB, he has since sold Kermit to new owners in San Francisco. Do you think she's slightly happy with her new car?




Bubba's at it again! His 1957 Velam Isetta comes in for a landing after a long trip from Madison, Georgia in the back of a semi truck loaded with bubble gum. How appropriate.

Isetta Tech. Live from Austin, Texas. Copyright 2002-2005.